Watercolor Painting (13:00 - 17:00), 1500 CZK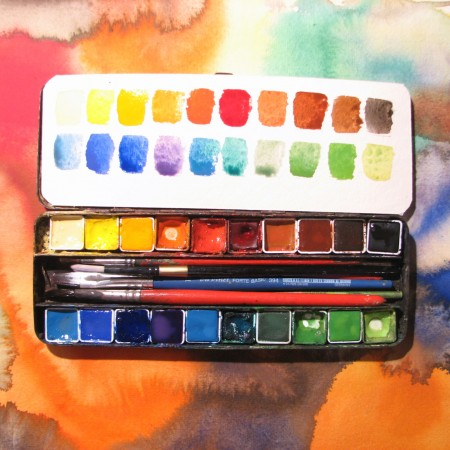 "The painter must know at first that the truth is hidden in subtlety."
(Su Tungpcho)
As part of the Watercolor Painting Course, we will learn about watercolor painting techniques, showcase the possibilities that this kind of painting offers, how to prepare the paper before painting, and how to adjust the resultant painting. Watercolor is often being considered as the "most difficult" painting technique, as it does not offer much space for repairs, such as oil painting. With us, however, you can easily handle the watercolor painting and you do not have to worry about it. Painting course is held in the creative atmosphere of the art studio, on warmer days we will go to paint into the Riegrovy sady, where we will study space and colorfulness of the landscape.
Where?

Fine Art Studio

Balbínova

28, Praha 2 Vinohrady

When?

1 p.m. - 5 p.m.

Who?

MgA. Volha Safronova

How much?

M

embership fee C

(

1500 CZK

)

Utilities

:

All

utilities

are

available

in the studio

for free

Reservation is necessary: by submitting the application for you commit yourself to pay the advance deposit of 500 CZK within 2 days from receiving the confirmation
Scheduled dates: 6. 4., 22. 6. 2019

Plein air painting at Divoká Šárka: to be specified (utilities are not included)


What to take with you to the plein air:

folding chair or seating mat / blanket, watercolors, brushes, cup for water, watercolor papers
Watercolor painting course for beginners and intermediate:
familiarising with the technique of watercolor painting, with its history and materials

s

tretching watercolor paper on wood panel, "painting wet on wet"

exploring watercolor paints, color theory, painting flowers

painting "wet on dry", drawing (pencil, ink) and watercolor painting subject, a natural material

evaluating and talking about paintings, watercolor adjustment (how to expose watercolor painting on paper at home)

work with color without using white and black, learn to use the base / paper color, and layering colors

painting wet on dry and wet on wet

using substrate paint and watercolor layering

using of other techniques such as masking liquids, ink, drawing materials

working in the studio, flower painting, still life, landscapes and animals
Watercolor painting course for advanced students:
familiarizing yourself with still life, which will have more plans and color shades
large format paper painting, more consistent techniques for both water and colors, and the shapes of objects and the integrity of the entire paper surface
building space on paper, even if the objects overlap
working with free handwriting and work on wet paper, relaxing and inspiring with random shapes and splashing tones
working in the plein air and studio
free transition from watercolor to gouache, we will learn to use white color
working on free and assigned topics, more individual approach
understanding the illusions of space
Plein air painting at Divoká Šárka:
We will go to Divoká Šárka, where we will learn the basics of watercolor painting in the plein air and we will gradually develop these skills. We will try to paint the entire landscape, rocks, forests and the creek. We will learn to capture the present moment in the landscape and the overall atmosphere. We will show you different ways of working with space, learn how to work with the perspective of the landscape and its plans. By observing, we will be able to open the perceiving of light nuances and shades of color step by step, and at the same time deepen our knowledge of the composition of the image.
What to Take With You to the Plein Air:
folding chair or seating mat/blanket
watercolors, brushes, cup for water
watercolor papers
pencils
Why Paint With a Watercolors? Perhaps because of its charm of the freshness of the painter's stroke, the translucency of the painting, ease of administration, swiftness, capturing changes caused by atmospheric effects or fragility of architectural elements, purity of expression or brilliant colors that were used in art history primarily Expressionists.
Learn to take a watercolor with you on a trip!
For this painting, you do not need a lot of equipment. One of the benefits of watercolor is that you can carry it with you anywhere. Take a watercolor in the backpack in nature, paint at home on your desk or anywhere directly on the knee.
Paint a picture with watercolors! The watercolor technique can be traced back to ancient times. Already prehistoric painters used color pigment combined with water or grease for painting in caves.
take with you:
folding chair or seating mat/blanket
watercolors, brushes, cup for water
watercolor papers
pencils
Application form - reserve your place in the course today!
By submitting the form you agree to our Terms and conditions.